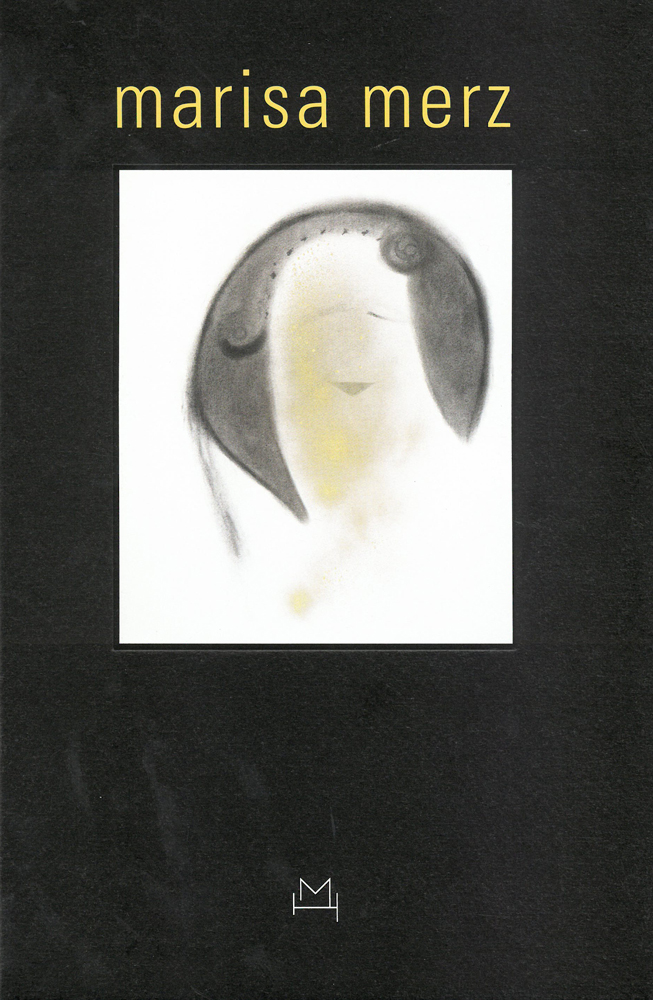 Marisa Merz
text by Dieter Schwarz
new drawings by Marisa Merz
pages: 68
format: 17 x 24,5 cm
date of publication: July 2004
binding: hardback
illustrations: 39 b/w, 4 col.
language: Italian/German/English
isbn 8877571854
€26,00
The art book is published for the exhibitions held at the Kunstmuseum in Winthertur (September 6th / November 23rd 2003) and at Barbara Gladstone Gallery in New York (January 24th / February 21th 2004): it's a black and white and colour collection of drawings made by Marisa Merz between 2001 and 2004.
"Fourtythree images on white paper, not contained within outlines but mere indications of figures: fine, dark visions which seemed to collect on the surface only to disperse again – barely any lines, just a suggestion. […] The drawings concentrate on the features of a face: eyes and a mouth, reference points which seem less to belong to a person than to occupy the space – not with any regularity, but sporadically like an assembly congregating, a throng of beings settling here and there. Although each drawing is made as an individual piece, it does not identify a particular set of features; instead it captures a single moment, the moment of appearing, becoming. […] In the work of Marisa Merz, drawing is the place where she articulates this, by notating eyes and mouth, perception and formulation. […] The gesture of drawing evokes the dichotomy of questioning and deciding that comes with the work and never lets go. […] Speed and energy shape these drawings, the gesture of the artist's hand audaciously denies what has been before and forges ahead instead of sinking into the paper." (Dieter Schwarz)
Marisa Merz was born in Turin and had her first solo exhibition in her studio, where she installed light sheets of aluminum that hung from the ceiling; this piece was exhibited the following year at the Piper Club and at GianEnzo Sperone. From that point on she partecipated in the creative activities that coalesced in the Arte povera group, showing at the Deposito d'Arte Presente in 1967 and in the group show Arte Povera + Azioni Povere, in Amalfi in 1968. Merz has used blankets, copper, wires, salt and wax; the artist's adoption of this material and this technique, has become a hallmark of her art. In 1979 she introduced poetic passages of her own writing into the work and during the Eighties she began drawing, creating small-scale portraits of women in pencil on canvas or cardboard, or larger ones in colored pastel. These have continued to recur in all her activity eversince. In 1982 she created small heads made from unfired clay or plaster, colored with pigments, presented on tall bases of rough wood or on metal tripods. Sculpture, drawing and the presence of interwoven wire often coexist in Merz's installations. In addition to having participated in some of the most important group shows in the last thirty years, Marisa Merz has also exhibited at many editions of the Venice Biennale, winning the Prize in 2001 edition. By the artist's own choice, she has had fewer solo exhibitions at galleries and museums: these include shows at the Centre Georges Pompidou, Paris (1994), the Stedelijk Museum, Amsterdam ( 1996), Marian Goodman Gallery, Paris (2002), Stein Gallery, Milan (2002), Kunstmuseum Winterthur, Winterthur (2003), Barbara Gladstone Gallery, New York (2004), Centre internationale d'art et du paysage, Ile de Vassivière (2010) and Fondazione Querini Stampalia, Venice (2011).
explore a few pages