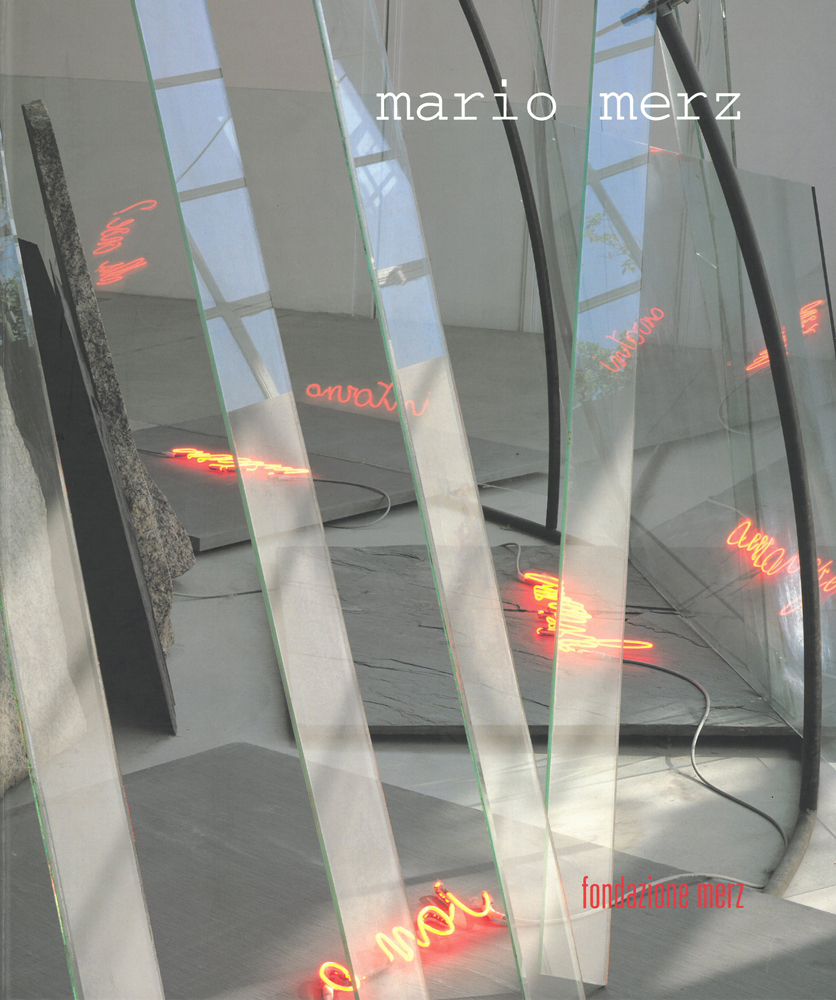 Mario Merz
texts by Carolyn Christov-Bakargiev, Dieter Schwarz,Luciano Pistoi, Carla Lonzi, Germano Celant, Michael Sonnabend, Wieland Schmied, Achille Bonito Oliva, Mario Diacono, Zdenek Felix, Marlis Grüterich, Denys Zacharopoulos, Harald Szeemann, Rudi Fuchs, Bruno Corà, Danilo Eccher, Daniel Soutif, Marcella Beccaria
The monograph reproduces the photographic documentation
pages: 244
format: 23 x 27 cm
date of publication: November 2006
illustrations: 166 col and b/w
binding: hardback
two editions: Italian and English
eng ed. isbn 99788877571845
it. ed. isbn 9788877572134
€50,00
The monograph reproduces the photographic documentation of the solo exhibitions held in 2005 at the Fondazione Merz, Castello di Rivoli Contemporary Art Museum and GAM Galleria Civica di Arte Moderna e Contemporanea, representing the most important spaces dedicated to contemporary art in Torino. This monograph, the most completed published on the artist, contains the complete iconographic documentation of his artworks, representing an archival documentation and providing an uprecedented understanding of Merz' working process.
The volume includes a comprehensive artistic career history, bibliography and biographical chronology and which is the most updated and complete examination of the artist. The book is unriched by the inclusion of unpublished material showed for the first time at the Fondazione Merz. It documents Mario Merz selected artistic production, including paintings, sculpture, installations, drawings, neon and Fibonacci series works. Some critical essays complete the volume, providing a deep and high reflections on the artist and his significative role in contemporary art.
Mario Merz (1925-2003)
He was one of the leading exponents of Arte Povera. He was born in Milan in 1925. After moving to Turin, he began his studies in medicine, but these were soon interrupted by the war. He would draw, write poetry and was a militant member of the anti-fascist group Giustizia e Libertà; in fact he was even arrested for his political activities. Then he travelled to Paris and, in 1950, he started painting. He joined the Arte Povera group in 1968 during an exhibition in the Galleria De' Foscherare of Rome. His early works made him become acquainted with Pinot Gallizio, the creator of the Bauhaus Immaginista, a sister movement of French Situationism. As early as 1965, he started using unconventional materials such as osier, either as single branches or grouped together in bundles, in a hard and ironic bout between the industrial culture of American Pop and the craftsmanship of Arte Povera, or the neon light which under the influence of Fontana and perhaps Flavin's luminous minimalism turned into one of his most interesting means of expression. Works by Mario Merz have been shown in permanent collections of the most important and prestigious museums all over the world: from Guggenheim in New York to the MOCA (Museum of Contemporary Art) in Los Angeles, from Stedelijk Museum in Amsterdam to Nationalgalerie in Berlin, from Israel Museum in Jerusalem to the Centre Pompidou in Paris. On November 2003 Mario Merz received the prestigious Praemium Imperiale for Sculpture from the Japan Art Association in Tokyo.
explore a few pages