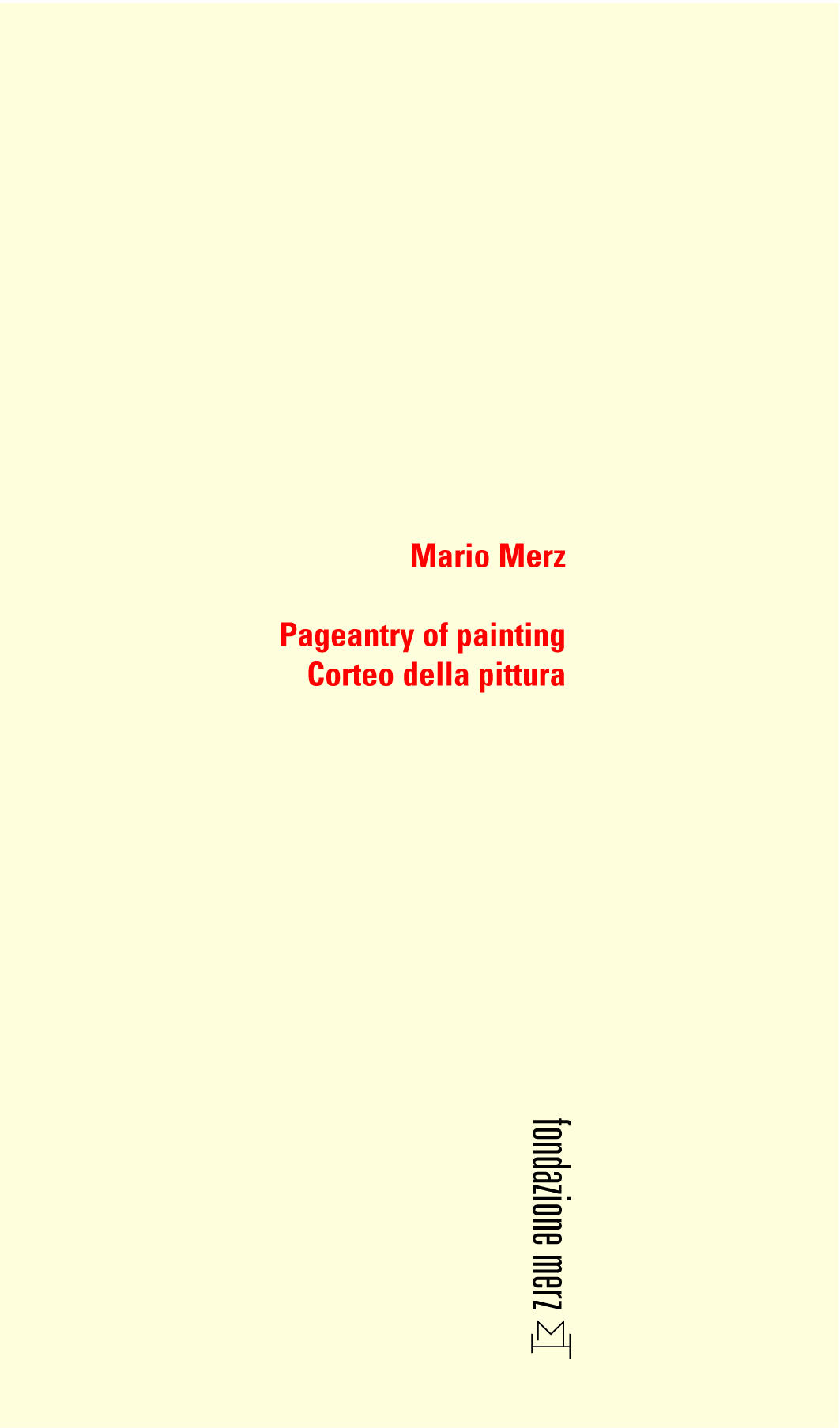 Mario Merz. Corteo della pittura/Pageantry of painting
texts by: Rudi Fuchs
pages: 96
format: 10 X 15,3 cm
date of publication: March/April 2011
images: 38 col.
binding: hardback/cardboard slipcase with USB key included
language: Italian/English
isbn 978-88-7757-248-6
€26,00
This book documents the exhibition Mario Merz. Pageantry of painting held at the Fondazione Merz in Turin from 12 May to 14 November 2010. Eighteen large paintings, selected by Rudi Fuchs, were realized between 1974 and 1988, and they come both from leading European museums and from private collections. In some cases, they have not been on public display for many years. Among the exhibited works two painted igloo, Casa del giardiniere, Igloo (Tenda di Gheddafi) and the Mario Merz. Lumaca video by Gerry Schum.
Rudi Fuchs, the exhibition's curator, describes the vision at the origin of his idea: "I remember from childhood certain ceremonial pageants of guilds in which the members carried large banners with those heraldic figures in strong colours. They marched to the town square where they then held competitions in artful banner swaying, which were acrobatic and spectacular. Whenever I see Mario's large paintings, I remember those festive pageants – and I want to present an exhibition of maybe twenty of those banner-like images in a theatrical display to give them back their particular flourish. The idea is indeed that of a colourful pageant. In the show they cannot move of course but an installation is possible, I think, in which the banners will appear to be rolling and waving." For the most part, they are images of animals of archaic form, the evidence and recognisability of which combine with the use of figuration in an archetypical sense, and with a strong symbolic and mythical accentuation, the reflection of an existential project. Rudi Fuchs continues: "Once I saw Mario Merz make some of the large, loose paintings which are now on show in this exhibition. He used a wet brush and cans of spray-paint on unstretched canvas, thin and light as bed-sheets. It was more drawing than painting: long extended curving and crawling lines, making figures of a kind (mostly fantastic animals). The shapes were distinct, powerful in colour and outline. They were heraldic." Mario Merz himself used to stress the link between image and symbolic references: "A painting comes to life even before it is made. And there is always a double image; it is an image and also something else. If the image is perfect, it becomes a painting... Until a short time ago, one could distrust imagination, but today one has again to bring in as much fantasy as possible into art". The figurative void in Mario Merz's art between the 1960s and 1970s was replaced by the reappearance of figures by the middle of the 1970s, as shown in this exhibition, and his pictures became more and more crowded as the 1980s drew near, when the image of animals and more proliferated.
The book in the slipcase includes a USB key showing a video filmed during the exhibition and an interview by the curator.