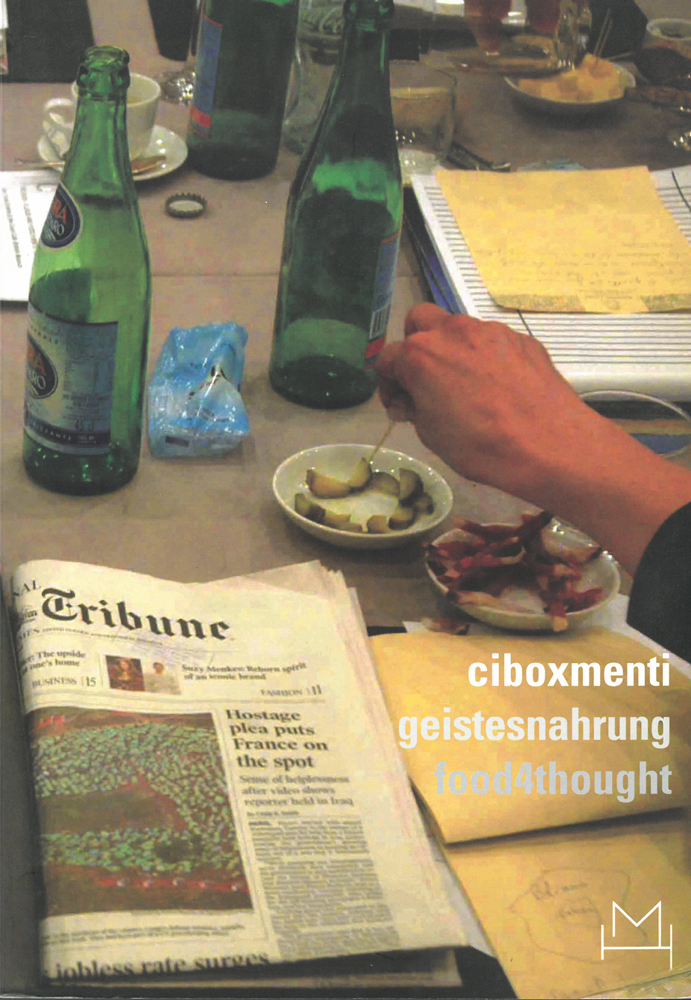 ciboxmenti geistesnharung food4thought
text by Gigi Brozzoni, Giacomo Fornari, Giuseppe Lo Russo, Alessandra Pace, Pier Luigi Sacco, Paola Tognon
pages: 224
format: 16,50 x 24 cm
date of publication: October 2005
images: 90 b/n e col.
binding: paperback
language: Italian/German/English
isbn 8877571934
€30,00
This book documents the experience of the food4thought project, its development, the exhibitions and performances which have accompanied it, the thoughts and experiences of its creators and of the experts, artists, cooks and protagonists of the world of art and culture that helped make it happen.
Four chefs of international acclaim and five of the most fascinating artists on the contemporary scene take visitors on a unique discovery of the complex rituals connected to food, including nourishment, taste, instincts and consumption. There are four leading concepts around which the exploration revolves: food/future, food/substance, food/environment and food/exchange.
The first work is Food 4 Stars, which reflects on the role that food will play in the future. From the collaboration of Davide Scabin, a chef from Turin with incredible passion and creativity, and precursor of Italian food design, with the Norwegian artist Sissel Tolas, who focuses his work on the concept of aroma as a creative element, comes an interactive, in-depth show based on scientific research. The second work revolves around the concept of food intended primarily as matter. Primordial instincts such as grasping, chewing and swallowing, as well as the various dietary habits of our society, are at the center of reflection for Italian artist Dunja Scannavini and chefs Burkhard Bacher (famous for the combinations of Italian, French and Thai cuisine) and Herbert Hintner (renowned chef who succeeded in bringing together continental culture and poetic Mediterranean "lightness" in an original, surprising manner). The third section of the exhibit features the two chefs, Burkhard Bacher and Herbert Hintner (with the collaboration of Gigi Brozzoni). Here, one reflects on the indissoluble connection between food and landscape through an experimental study of the element of water, which is fundamental not only in all culinary creations but also in any landscape, be it manmade or natural. The aim is to allow for the perception of territory being perfectly connected to our eating habits through the senses of taste and smell. The "non-food" of a landscape will therefore be concretely represented by the combination of small amounts of crystal-clear water, found in the vaporization of four basic materials: meat, fish, milk and vegetables. The relationship between food and distribution is dealt with in the work by chef Thomas Mayr of Alto Adige in collaboration with two renowned artists: Raúl Cárdenas Osuna from Mexico and Francesco Jodice from Italy. The project consists of a particular dough specially created by Mayr, by adding a number of symbolic ingredients from Alto Adige to a traditional recipe, and by its packaging, created by the two artists, which clearly specifies the product's origins and truly innovative design. Finally, French artist Ben Vautier's "infiltration" (a series of items that will be found in the display areas) is truly surprising and will prompt even further reflection.
Artists: Raúl Cárdenas Osuna, Francesco Jodice, Dunja Scannavini, Sissel Tolaas, Ben Vautier
Cooks: Burkhard Bacher, Herbert Hintner, Thomas Mayr, Davide Scabin
explore a few pages