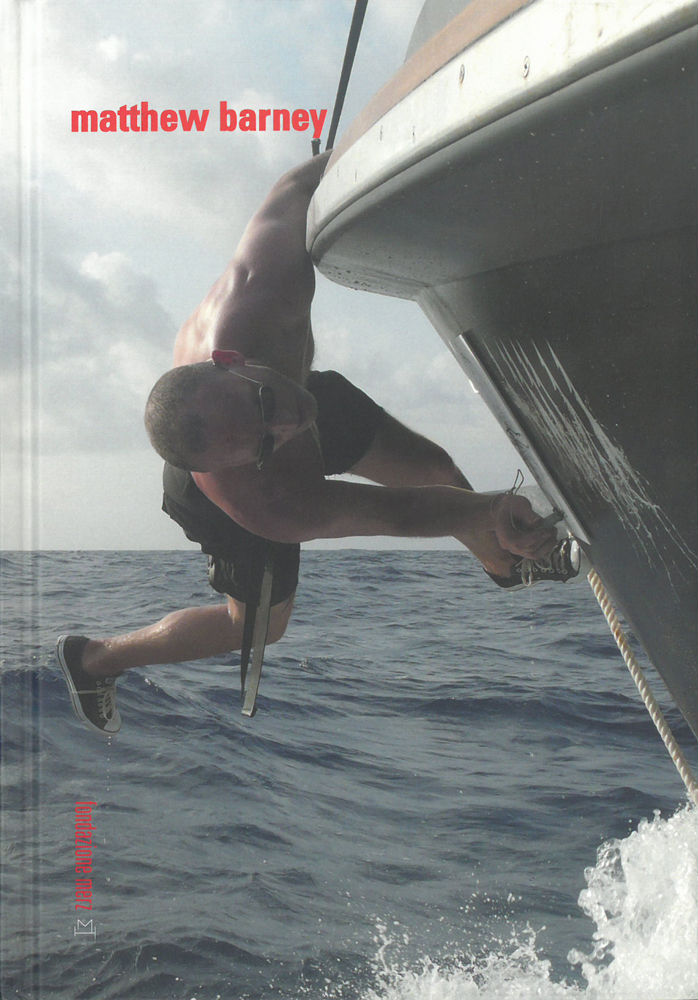 Matthew Barney. Mitologie contemporanee
texts by Matthew Barney, Arthur C. Danto, Gian Luca Favetto, Richard Flood, Olga Gambari
pages: 200
format: 14,5 x 21 cm
date of publication: May 2009
images: 80 col.
binding: hardback
language: Italian/English
isbn 9788877572356
€30,00
The book collects the multi-faceted project that Matthew Barney developed in 3 days in Turin and documents the different parts of it: the solo exhibition at the Fondazione Merz (30 October 2008 - 11 January 2009), a workshop with the students of the Accademia Albertina di Belle Arti and University of Turin, a public meeting between the artist and Richard Flood, opened by a paper written for the occasion by Arthur C. Danto, and a series of films screened at the Cinema Massimo.
Matthew Barney is one of the most important American artists of the new generations. In the international survey he is an original and many-sided author, his work crosses many cultural branches – sculpture, photography, architecture, design, fashion, cinema, music etc. – creating a very special artistic language. His conceptual and aesthetic work mixes parts of all mithologies produced in the history of mankind, from the ancient and classical until the most anomalous and mysterious ones. His hybrid and omnivore artistic research is a sort of great and new cosmogony. His movies are famous all over the world: the epic Cremaster Cycle, Drawing Restraint and De Lama Lamina.
Matthew Barney was born in San Francisco in 1967 and was raised in Boise, Idaho. He attended Yale University, receiving his BA in 1989, then moved to New York City, where he lives today. From his earliest work, Barney has explored the transcendence of physical limitations in a multimedia art practice that includes feature-length films, video installations, sculpture, photography, and drawing. In his first solo exhibitions, Barney presented elaborate sculptural installations that included videos of himself interacting with various constructed objects and performing physical feats such as climbing across the gallery ceiling suspended from titanium ice screws. In 1992, Barney introduced fantastical creatures into his work, a gesture that presaged the vocabulary of his subsequent narrative films. In 1994, Barney began work on his epic Cremaster cycle, a five-part film project accompanied by related sculptures, photographs, and drawings. He completed the cycle in 2002. Matthew Barney: The Cremaster Cycle, an exhibition organized by the Guggenheim Museum of artwork from the entire project, premiered at the Museum Ludwig, Cologne, in June 2002 and subsequently traveled to the Musée d'Art Moderne de la Ville de Paris in October 2002 before its presentation in New York.
explore a few pages