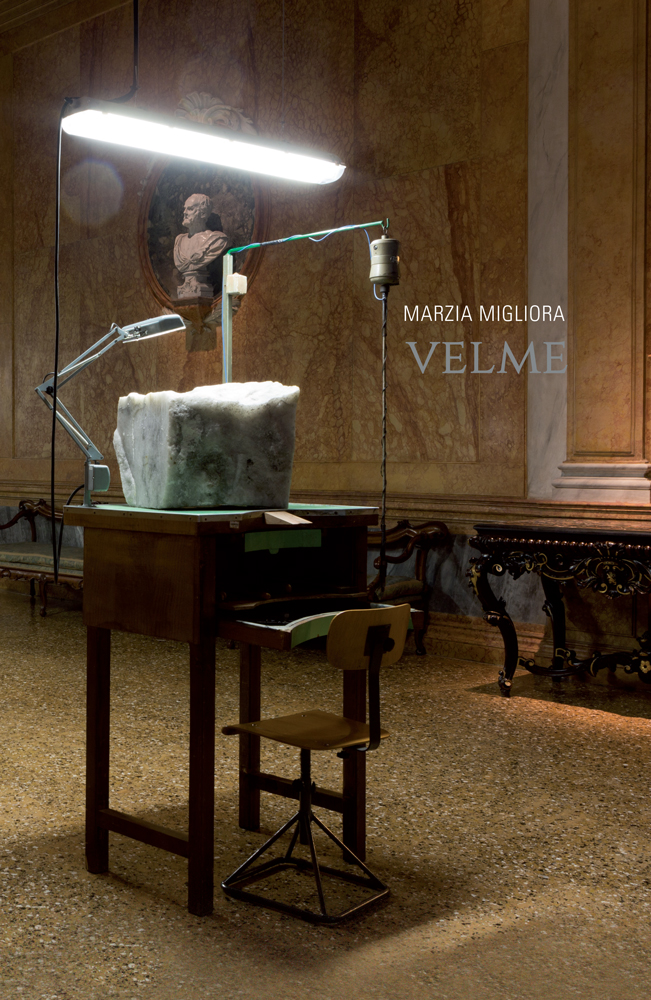 Marzia Migliora. Velme
texts by Beatrice Merz, Marzia Migliora, Alberto Salza
pages: 152
format: 14,5 x 21 cm
date of publication: May 2017
binding: hardback
language: Italian/English
isbn 9788877572677
€30,00
This catalogue is published on the occasion of the exhibition Marzia Migliora. Velme curated by Beatrice Merz and held at Ca' Rezzonico in Venice from 13 May to 26 November 2017.
"Attracted by the charm of the lagoon city, with its complex history and its most current contradictions, Marzia Migliora relates Venetian affairs and those of the world of labour through a series of legendary, literary and social implications, conceiving a project steeped in elements drawn from history and current events, making use also of some works conserved in the historic building. The artist accomplishes this by extrapolating some elements from the collection, making them 'her own', using them in installations and including them under a new guise: she starts with the crest of the Rezzonico family and the sculptures of the vase-holder 'Moors' by Andrea Brustolon, and then collects a series of stimuli, passing from the fresco of the 'New world' by Giandomenico Tiepolo (the Younger) to paintings by Pietro Longhi depicting scenes of daily and family life, from the workplace to occasional or exceptional moments. The works that result from this approach are marked by a strong ideological and emotive intensity and shift the visitor's point of view back to our own times: upper-works, wetted area. Ca' Rezzonico is thus transformed into a meeting place between old and contemporary, where the stories appear to us in all their complexity, packed with differing values: our gaze turns toward the horizon and accompanies the decline of glorious eras, like the one represented by the palazzo or that of today. The velma, which gives the exhibition its title, is the 'place' of conjunction between water and land, the symbol of something submerged that must never stop emerging, 'an urgency of the present' and a bridge that connects us with the past." (Beatrice Merz)
The catalogue reproduces the photographic documentation of the exhibition at Ca' Rezzonico and a selection of Marzia Migliora's works from 2002 to 2016. The project drawings realized by the artist in preparing of the exhibition stands by the curator Beatrice Merz text. A conversation between anthropologist Alberto Salza and the artist enriches the site specific installation by Marzia Migliora, whom works are on display in several rooms of the Museo del Settecento Veneziano in the historic Palazzo Ca' Rezzonico.
explore a few pages