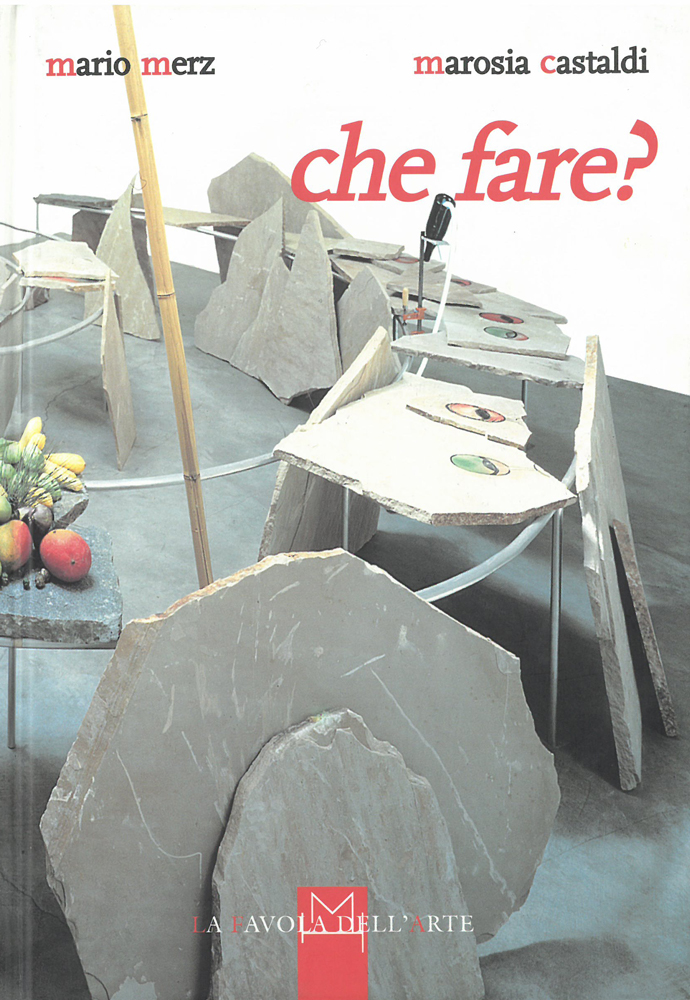 Che fare?
La favola dell'arte
pages: 82
format: 14 x 20 cm
date of publication: April 2005
images: 36 col.
binding: hardback
language: Italian
isbn 9788877571656
€15,00
"One looked like a dinosaur. Another one looked like a anteater. Another one a big lizard or a crocodile. They are not just figures or signes amomg the stars. They are living creatures that move up in the sky – I said – the Universe is full of dinosaurs, kites, lizards and lions, men with arrows and rhinos".
Have you ever looked at the sky discovering stars and constellations in courious shapes and wondering maybe someone else is doing the same on the other side?
From the synergy between Marosia Castaldi's words and Mario Merz's images, a tender fable telling about a world made of imagination that is inside everyone, told through a swift language that goes with the colours and shapes of Art.
La favola dell'arte, or a fabulous way of entering the world of art. The art of writing and the art of the figure in a close synergy at the service of fun and learning.
Mario Merz (Milan 1925-2003) was one of the leading exponents of Arte Povera. His works have been shown in permanent collections of the most important and prestigious museums all over the world: from Guggenheim in New York to the MOCA (Museum of Contemporary Art) in Los Angeles, from Stedelijk Museum in Amsterdam to Nationalgalerie in Berlin, from Israel Museum in Jerusalem to the Centre Pompidou in Paris. He received the Japanese Imperial Praemium for sculpture on November
2003.
Marosia Castaldi born in Naples, lives in Milan. She has studied philosophy and art. It's ages since she dedicates herself completely to writing. She has published narrative texts, Abbastanza prossimo (Tam Tam 1986, finalist at Mondello Prize 1986), Casa idiota (Tringale 1990), Piccoli paesaggi (Anterem 1993) and novels, La Montagna (Campanotto 1991), Ritratto di Dora (Loggia dè Lanzi 1994, finalist at Palazzo al Bosco Prize 1992), Fermata km 501 (Tranchida 1997), Per quante vite (Feltrinelli 1999, finalist at Premio Bergamo 2000 and at Premio Chianti 2000).
explore a few pages