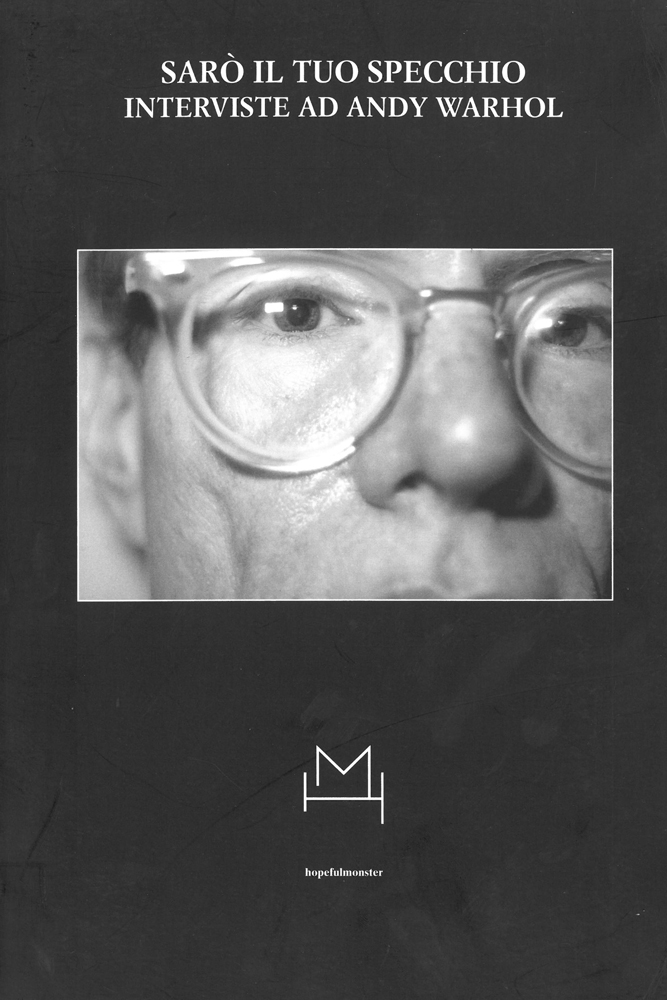 Sarò il tuo specchio. Interviste ad Andy Warhol
curated by Alain Cueff
pages: 344
format: 16,5 x 24 cm
date of publication: December 2007
binding: paperback
language: Italian
isbn 9788877572264
€35,00
"The interviews collected here – from the first, given in 1962, to the last, published after his death in 1987 – allow us to appreciate Warhol's constancy and his ability to continue to play the part of a sort of Sphinx swearing it has no enigma to offer. This collection can be read as a treatise on the art of escape: ask me whatever you want, because after I mutter an answer I won't be there anymore. It can also be read as the paradoxical and enigmatic lesson of an artist who cultivates contradiction as a necessity: tomorrow I will say the opposite of what I said today. One dodge after another, his philosophy ends up filtering through the lines and even though Warhol knows how to juggle in a palace of mirrors to throw up reflections confusing he who would study him, it is still possible to reconstruct the portrait of the character and the artist. But it is necessary to pass through many traps, whether signalled or hidden, which often spring up at inopportune moments: short circuits, paradoxes, double-meaning statements which, by relegating the truth to the rank of a derisory accessory, destabilise his interlocutors. In the following pages, the reader sees that something similar happens in his interviews where, by trying to avoid the subject of his work, Warhol puts his interlocutors and readers against the wall. But if we read between the lines, we can see that he is mainly interested in the dislocations of signs, the sudden appearances and disappearances of vanishing points. Except where he first tries to draw us back to the picture. In case we had forgotten: right on the axis of the picture" (Alain Cueff).
There is probably no cultural personality who has been interviewed as frequently as Andy Warhol. His figure was perennially associated with the media and wherever he went, the press followed him. As far as possible, this book presents Warhol in all his dimensions over the twenty-five years he was in the spotlight. There are pieces focusing on every area of his vast oeuvre and voracious life: Andy as painter, filmmaker, publisher, promoter, performer, printmaker, photographer, author and videographer; there are interviews that illustrate Andy's views on other artists; the experience of going shopping with him; what his feelings were about New York; how he perceived his Catholicism. Although we have tried to maintain a certain chronological balance, more than half of the interviews date from the 1960s, considered the most important period of his life. No changes have been made to the interviews, nor have revised versions of the texts been included.
Original title: I'LL BE YOUR MIRROR. Selected Andy Warhol Interviews, 1962-1987 (edited by Kenneth Goldsmith), Carroll & Graf Publishers, New York 2004.