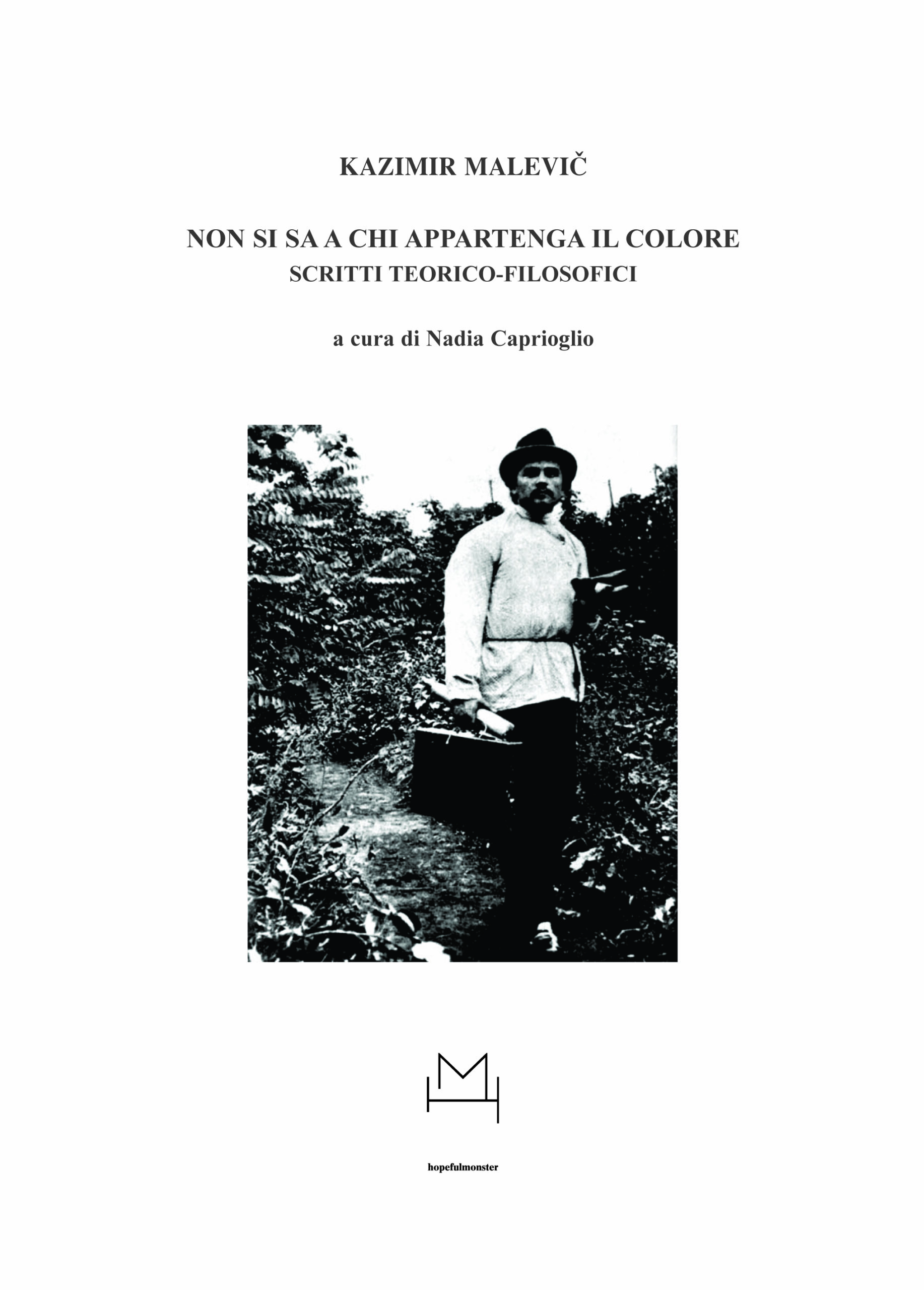 Non si sa a chi appartenga il colore. Scritti teorico-filosofici
edited and translated by Nadia Caprioglio
introduction by Jean-Claude Marcadé
pages: 200
format: 16,5 x 24 cm
date of publication: February 2010
binding: paperback
language: Italian
isbn 9788877572455
€30,00
The history of Russian art between 1919 and 1930 offers numerous examples of collaboration between painters and writers who came into close contact in the avant-garde groups. Malevich, for his part, felt that the pictorial medium was insufficient to respond to the more precise demands of a new logical discourse, and in the summer of 1919 he temporarily abandoned painting in order to turn to the creation of theoretical texts. Rejecting the "imperfection of the ruffled brush" in favour of the "subtlety of the pen", Malevich crossed the boundary between painter and philosopher. He did not write about Suprematism, but wrote as a Suprematist, drawing on the extra-pictorial consequences of the new meaning he attributed to painting. The result is an immense corpus of writings, the whole of which constitutes a great book illustrating the artist's universe. His constantly moving thinking can be found scattered throughout the theoretical essays, polemical articles and letters, which were continually revised, as if the author wanted to sketch define it more closely, and continually interrupted. At times, one has the feeling that Malevich eschews the final version; that the texts are written on the spur of the moment, without revision or correction. Alongside treatises and manifestos in which the philosophy of art appears inseparable from reflections on politics, economics and religion, Malevich's legacy as a writer has recently been enriched by the discovery of a considerable quantity of poems, some of which are still unpublished. A prolific and polemical writer, Malevich is noteworthy not only for his richness and originality (and sometimes extravagance), but also for his fascinating, ungrammatical literariness. He often ignored not only the rules of spelling and punctuation, but also the usual human logic. His rough prose, which initially repels the reader, ends up capturing and involving him thanks to its vigour and prophetic spirit; the numerous neologisms are a good test for the translator, who is often forced to undertake an exegesis of 'transmental' linguistic forms and philosophical terms created on the hoof.
Jean-Claude Marcadé, emeritus director of research at the C.N.R.S Centre National de la Recherche Scientifique in Paris, has been the curator and scientific commissioner of numerous exhibitions, including the monographic exhibition dedicated to Malevich at the Musée des Beaux-Arts in Bilbao in 2006.
Nadia Caprioglio graduated from the University of Turin in Russian Language and Literature. She completed a PhD in Comparative Slavic Literature at the University of Milan and spent time at the A. Pushkin Institute of Russian Language and Literature in Moscow, the Lomosov University in Moscow, the Université Libre in Brussels and the University of Nebraska in Omaha. She has been a researcher at the University of Turin since 1992, and since the 1996-97 academic year has held the chair of Contemporary Russian Literature at the Faculty of Education where she holds courses on twentieth-century poetry and preparatory seminars on Russian versification.